Why is Chiropractic Care Needed?
    
.
My Chiropractic Results: Before (Left) – notice the Igor-like hump.  Afterwards (right) it's not only gone, but my posture is straight.  I chose two pictures on a Segway ride because you can't fake the pose.  Each time this was taken I was 45 minutes into the ride & not thinking about how my posture looked.
More importantly, it's creating the correct curvature of the neck (a.k.a. the "Arc of Life"), disks in my spine are not compressing on each other and sending the correct flow throughout my nervous system.  For more info, look at these explanations:
My Chiropractic Routine
Chiropractor from Dec. 1st, 2011 to Jan. 31st, 2012.  Back on program Mid-April 2012.  Latest Chiropractic X-Ray review (6/19). Finalized my Chiropractic exercises at the end of 2012 and found that swimming is just as effective (and much cheaper) than the chiropractic program shown below.  Currently I use home rehab once in a great while if I notice my spine is misaligned or see my head moving forward.
Chiropractor Program:
2-3 Times Per Week:  Head alignment machine, Pettibon / Wobble Chair, neck & lower back / spine adjusted, head weights for 10 minutes, and neck alignment (more details & photos).
Everyday Home Rehab:  Head weights 2X per day (10 min. morning & evening) + Denny roll 2X for 20 minutes (morning & evening when I can get assistance).
Break from Chiropractic & Home Rehab – February 1st – 5th
Home Rehab from February 6th – Mid-April, 2012 (After mid-April back on chiropractor program)
Head weights 2X per day (10 min. morning & evening) + Denny roll 2X for 20 minutes (morning & evening).
Starting August 6th up to September 6th (2-4 Weeks): Increase to larger fulcrum (start at 5 minutes, work up to 15 minutes)
When comfortable with the 15 minutes, begin the beginner exercises.
After comfortable with the beginner exercises, move on to intermediate.
After comfortable with the intermediate exercises, move on to advanced.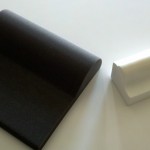 Home Rehab Photos from Top-Left to Bottom-Right (Click to See larger):
Fulcrum with Denny Roll
Denny Roll (Side)
Denny Roll (Front)
Head Weight (Front)
Head Weight (Side)
Chiropractor vs. Swimming & Yoga – Side Effects and Benefits
For more than a year I went to the chiropractor (most weeks were 2-3 times per week).  However in early 2013 I stopped going as I found swimming to give me more benefits without going through so much chiropractic pain and suffering side effects.  Review the progression chart below (click to view it larger) and read below on what I did:
The above graphic shows a posture analysis system used by chiropractors to measure the alignment of the neck and spine.  Notice the progression of head weight from 33.2lbs to 16.0lbs – a change of over 200%.  The key to this is actually from October 2012 to January 2013.  During this time I didn't go to the chiropractor as much (on average once per 2 weeks) and focused on swimming, yoga and strength exercises.  After January I only did strength exercises on the power plate a few times and stopped altogether in March of 2013.
Learn more about exercise and chiropractic care as a key step to curing autoimmune diseases.