Waking Up:  Went to bed around 10pm-10:30pm last night woke up at 3:30am, went to the bathroom (I have to check my future water intake after 7pm).  I got up at 7am.
Morning Physical Symptom Check:  Overall stiff & sore body, but not horrible.  I'd give it a 3 on a scale of 1-10 (10 is worst).  Some inflammation behind right thigh, left hip.  Stiff mid-back & sore neck.  Range of motion is there, but if I turn my neck to the left too much, I get a dull shooting pain.  Lastly, the flatulence continued throughout the night & some in the morning.  Alas, beans don't look good in my future.
Smoothie Recipe (Peach Mango Smoothie Recipe)
• 3 organic peaches, pitted
• 2 bananas, peeled (subbing 1)
• 1 large mango, pitted and peeled
• 4 cups organic Swiss chard, chopped
• 6 to 8 ounces filtered water
• Bee Pollen (1 Tablespoon)
• Spinach (1 1/2 handfuls)
Synopsis of Smoothie:  Overall good, even smoothie.    2 1/2 Glass-fulls.  I'd try again & reduce the peaches to 2.
Food for Next Week:
Went to the local farmers market at:
North Naples Green Market 
Indoor Summer Market – May to October 8am-1pm, Olympia Park, 2320 Vanderbilt Beach Road
Outdoor Winter Market.– November to April, 8am-1pm, Coconut Point Green Market
239-594-9358
Although it was packed, I bought most of my food for next week.  The place most people flocked to (and I got most of my USDA Organic food from) was
Worden Farm
.  They're located in Punta Gorda.  So I should be able to find them up in the Venice & Sarasota area.  Then headed to Costco & Publix to pick up what I couldn't find there in bulk.  Unless listed below, all items are USDA Organic:
Fruit 
Lime (2 small)
Mangoes (5) – bought 9 at Costco & not organic.
Pineapple (1 small)
Bananas (6 medium) – not organic
Papaya (1 large)  – bought at Costco & not organic.
Orange (1)
Young green or Thai coconut (got that at Whole Foods last week)
Strawberries (2 cups worth)  – bought at Costco & not organic.
Apple (1)

Vegetables
Zucchini (4 medium)
Campari tomatoes (25) – bought at Costco & not organic.
Large Tomatoes (3)
Red onion (1 small)
Avocado (2)
Fresh spinach (1 bunch or 2 chopped cups worth)
Kale (1 bunch or 2 chopped cups worth)
Red bell pepper (5) – bought 6 at Costco & not organic.
Carrots (3 medium)
Cucumber (1 medium)
Sundried tomatoes (1 and ¼ cup worth)
Celery (2 stalks)
Alfalfa sprouts (1 package) – substituted Sunflower sprouts
Sea Vegetables
 Nori sheets (1 package)
Dulse flakes
Herbs and Spices
Fresh cilantro (2 to 3 sprigs)
Garlic (1 bulb)
Fresh dill weed (8-12 sprigs)
All On-Hand But Required for Next Week
Basil
Oregano
Chili Powder
EVOO
Sea Salt (Himilayan)
Vanilla bean / extract
Total cost around $80-$90.
Lunch Menu:  Pineapple Shrimp Salad (Bajio)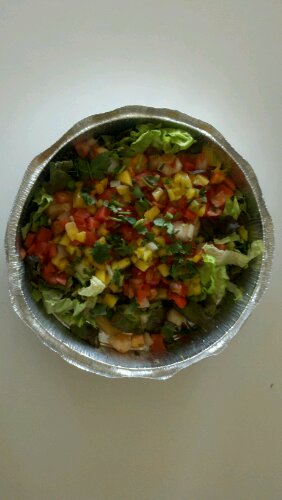 Pineapple juice sauteed with shrimp
Lettuce
Pico De Gallo
Mango Salsa
Corn (small amount)
Sauteed onion
Cilantro
Mid-day snack:  None.  But I did drink carrot & acai juice with my Konsyl fiber supplement.
Dinner Menu: Tuna Salad Sandwich + Holy Yamoli Sandwich (Food & Thought)
After the bean issues I've been having all day, the last thing I wanted was anything near the bean category.  After some back & forth with the staff, we found something that I could eat that was raw + part of the NSD.  Sandwiches wrapped in collard green leaves.  I'll have to remember this for future lunches.
NOTE:  Yams are high in starch.  Next time remove this when ordering.
Evening inflammation check:  Back of right thigh, right hip & left hip little inflammation.  It was noticeable to other people when I went ballroom dancing.  However, I was able to dance (and improve throughout the night) all night.
Digestion:  Flatulence reduced throughout the day as the cannelloni beans were getting fully digested in my system.
Neck Issue Check (Evening):  Almost healed.  Only notice when I turn my head to the right.  I will continue the head weights / Denny roll tomorrow.  I've only been using the head weights once (or today none) in the past few days.
NOTE:  I am finishing the evening portion of the post around 11:30pm.  So the inflammation effects, feeling tired, etc. should be better tomorrow unless the starch in the yams did it in for me.