Turkey Rice Soup with Grilled Fish Salad
Here's a great autoimmune recipe that works well with those that have an autoimmune disease (especially gut-related).  The turkey and the rice can be substituted or removed in the turkey rice soup and you can use just about any type of white fish in the grilled fish salad (my favorites are cod, grouper, and corvina).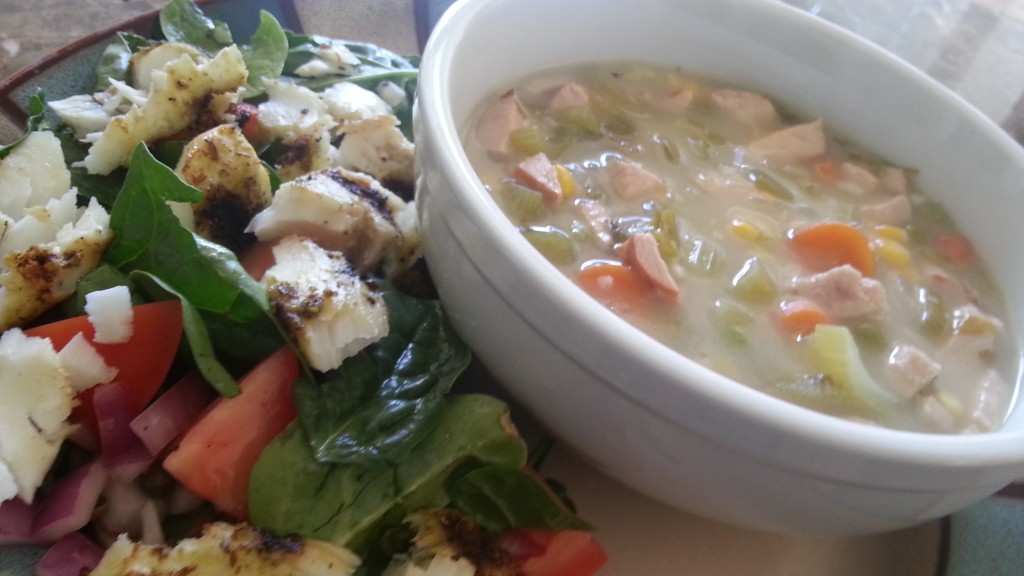 Turkey Rice Soup
Brown Rice Recipe (Takes 1-hour to complete)
1 Cup gluten-free organic brown rice
1 Tbsp (or more) minced garlic or chop up garlic cloves
Chop up 1/8 yellow onion
2 Tbsp coconut oil
Ground Pepper
2 Cups Water
On medium heat, add coconut oil, onions, and ground pepper.  Let it fry up for 2-3 minutes (onions soft and/or translucent), add in garlic for another minute. Add in rice & water, cover until it boils.  Reduce heat to low, uncover & stir, cover again for 50 minutes.
Turkey Soup (Takes 1-hour to complete)
2 Tbsp coconut oil
1 bunch celery
2 cups sweet onion
1 1/2 Serrano Pepper or 1 Jalapeno removing some seeds

6 Cups Water

5-7 carrots
2 bay leaves
1 bunch curly / Italian parsley
4-5 cups cooked turkey
1 cup of coconut or almond milk (if you can handle dairy, use cream)
1/2 cup corn
1 cup peas
5 minced garlic cloves
Sea Salt to taste
Chop up the carrots, celery, onion, parsley, turkey, and garlic and set aside.  Add in the oil, saute the celery & onion with pepper & Serrano / Jalapeno for 5-7 minutes.  Bring water to a boil, add in bay leaves, carrots, garlic, parsley and meat and simmer for 15-20 minutes.  Add in coconut milk, corn, peas and (Optional) veggies like Swiss Chard, Kale, and/or Spinach and simmer for another 15 minutes..  Combine cooked rice and enjoy!
Grilled Fish Salad
This recipe comes from Whole Foods.  You can substitute the vinaigrette on the fish for other herb-based vinaigrettes out there.  My choice is a local raw vegan organic like this one.
1 pound white fish (I used Cod)
Coconut oil (Brush on fish)
6 tablespoons prepared red wine vinaigrette
3/4 teaspoon fennel seeds, crushed
1/2 teaspoon coarse sea salt
1/2 teaspoon cracked black pepper
5 cups baby spinach leaves
1 large tomato, cut into wedges
1/4 red onion, thinly sliced
1/3 cup chopped pitted Niçoise or Kalamata olives
2 1/2 tablespoons drained capers
Prepare a grill for high heat cooking and oil grill grates. Brush swordfish with 1 tablespoon of the vinaigrette and sprinkle with the fennel, salt and pepper. Let sit for a few minutes and then brush / add on the coconut oil to reduce sticking to grill.  Grill the fish, turning it once  until nicely browned (with grill marks) and just opaque in the center, 8 to 9 minutes.
Toss spinach, tomato and red onion with the remaining vinaigrette and mound the mixture on a platter. Scatter with olives and capers. Cut the fish into chunks, arrange it on top of the salad and serve.