Recipe Week – Day 4, Cucumber Cups with Olive Tapenade
I don't like raw cucumbers.  The olive tapenade is way too salty.  But when combined together, I can eat these Cucumber Cups with Olive Tapenade appetizers by the bucket load!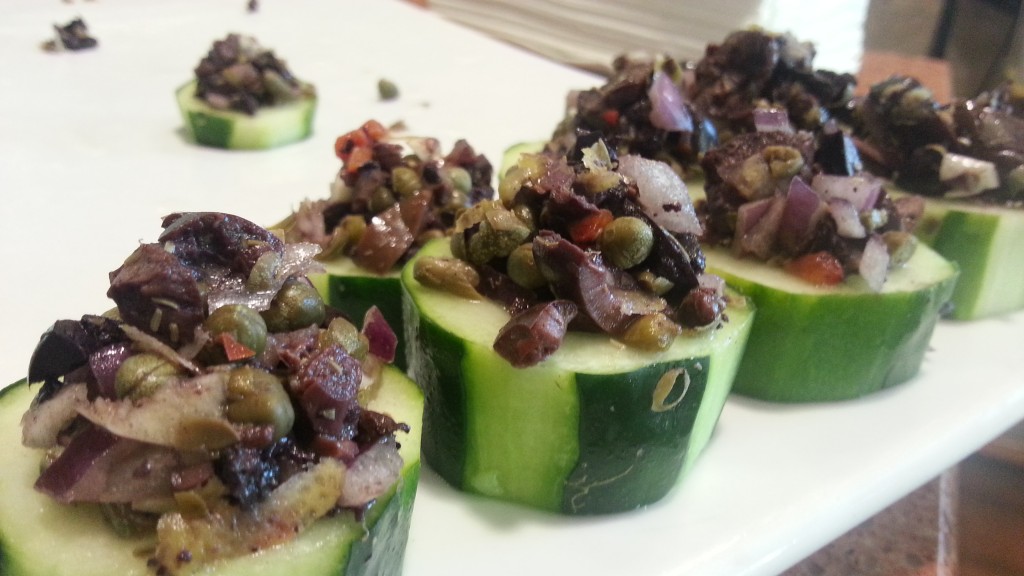 Ingredients
2 cucumbers
1/4 cup capers drained
1 1/4 cups Kalamata olives, pitted and drained
3 tbsp finely diced red onion (or shallots)
4 cloves garlic, finely minced
1/2 tsp jalapeno or serrano pepper, seeded and minced
1 tbsp lemon zest
Directions
(Optional) Peel cucumber lengthwise 4 times to get light green & dark green stripes next to each other as shown in the photo.
Slice cucumbers in to 1/2 inch thin rounds.  To create the cup, scoop out half the seedbed of each round using a small teaspoon / spoon.  Make sure not to cut all the way through.  Set aside.
Mince the capers and olives and mix with the onion, garlic, jalapeno and lemon zest in a small mixing bowl to make the tapenade.
Fill each cup with a heaping tablespoon of tapenade.
Want more?  Click here for more of my autoimmune food recipes.