Uniqueness of Week 6
Making "Bread":  Looks like I can use almond flour and/or coconut flour to make breads, crackers, etc.  The catch is to use this in small doses as too many almonds can lead to omega 3/6 imbalance and too much coconut flour can lead to flare-ups.  For me, I'll probably visit these flours after the 6 months.  MORE INFO >>
Dehydrated fruit & kale chips.  Kale chips had garlic, salt, pepper, and Parmesan cheese (didn't have nutritional yeast on-hand).  Tastes good but too salty.  For the fruit, here are the preparation instructions & length of dehydration.  I tried oranges, mangoes, bananas, apples, and kiwi fruit.  Although all taste good, most people gravitated towards the mangoes and apples (add cinnamon for an extra kick in the apples).
Zyflamend – After attending an inflammation class on 2/25, I found out that the turmeric and ginger root were not nearly as effective as a supplement.  Plus they overpower the taste of my smoothies.  According to the doctor, she said "how much curcumin is in an actual turmeric root (or culinary turmeric powder).  Although the numbers vary, it's primarily between 3-5% (some sources say as little as 0.6%, some as high as 6%).  That pales in comparison to the 95% found in supplements!"  I will update my daily routine to reflect these changes.
Concentrate vs. Pasteurized – Which is Better?  Consumers often favor not-from-concentrate over concentrated juice because they think it's fresher.This is not the case. During the pasteurization process, the juice is heated, deprived of its flavor and stored in vats for as long as a year. When it's time for packaging, orange flavor must be added so it seems fresh. Not-from-concentrate costs more, but it's neither fresher nor more nutritious than juice from concentrate, as reported by the Minneapolis-St. Paul Star Tribune.To make juices concentrated, they are put through all kinds of processes and then frozen in a slushy vat just like you see at your local 7-11 (only much bigger).  The process is more about removal of the juice than adding preservatives.  A great explanation of all these procedures can be found here.
My Health in Week 6
Red Meat:  On Tuesday 2/21 I tried red meat (sirloin – 3″ X 3″) along with grilled asparagus and two raw carrots with salsa.  Whenever you don't eat red meat for over a month you realize how hard it is to chew and digest.  Plus the taste is nowhere near as good as it used to be and I felt a type of reflux (almost a burp, but not quite) after eating it.  After this experience, I don't really see my self eating red meat anymore.  It just doesn't make sense.
I had a pulled neck since the beginning of the week and had to take some Advil / ibuprofen to reduce the pain to manageable levels.  On 2/23, the pulled neck was greatly reduced and I've felt better on 2/23 than any day while I've been here in Venice.  I also purchased a water pillow on 2/27 to help relieve the pain while sleeping.  In one night I have seen some reduction in my neck, but it will take at least a few days to see if it all goes away.
Sleeping with Inflammation & Pain:  After the pulled neck, my daily routine works out quite well.  However, my issue is still sleeping.  The best times seem to be a day or two after I take Enbrel up to 7 days after that.  After that, the pain & inflammation greatly increases.  For example, I'm writing this paragraph on 2/25 at 3:30am (went to bed around 8:30pm exhausted) with heavy inflammation & pain around my entire mid-chest & back area.  Also the pain & inflammation has moved from my right hip to my left.  It seems I cannot sleep well without an NSAID each night (I took Advil when I wake up from the pain).  I went to bed at 8:30pm, got up at 3:30, went back to bed at 4:30am & woke up at 8am – my longest sleep since the start of the diet.  Each day afterwards, I've taken 1 Advil with food 1-2 hours before bed.  It's allowed me to sleep 8-10 hours per night after 2/25.
My lowest weight was 142lbs. and a BMI of 19.85.
Notable Meals this Week

Shrimp Avocado Salad (Mi Pueblo)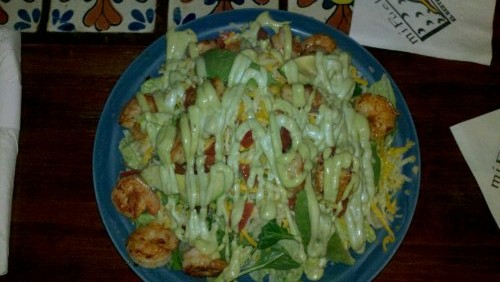 I admit it, I messed up on this meal.  I forgot to tell them to remove the cheese & put the avocado dressing on the side.  Other than that, the meal will full of good ingredients – avocado, shrimp, mixed greens, tomatoes, sunflower spouts (I was surprised to see that), and some other ingredients that I can't remember.  The great news – no flare-ups…whew!
Mi Puelbo also has an organic menu & juices / smoothies that I will try next time.  Make sure to ask for it as I never saw this menu coming in.
Synopsis of Meal:  Large enough portion for a lunch.  If you're still hungry (I was, but not too much), add in a juice / smoothie.  I can't comment on the taste because I had those extra ingredients.  I would assume that it would taste good without the cheese & avocado dressing.