"Uniqueness" of the Day:  Moving materials up to Venice, Florida (will be here for a few months) delayed things and had to grab a salad at Panera Bread.  Other than that, I followed the diet plan.  I'm also happy to report that between the ballroom dancing, the 4 hours of cleaning up / fixing the house, driving, and setup in Venice, I report continuous great levels of energy and reduced inflammation.  The food reboot is showing real results that others are even seeing too.  God, this is amazing!
Waking Up:  Went to bed at 11:30 and got up at 6:30am to some body aches and right hip inflammation + some shooting pains – nothing too severe & is much better than previous mornings after ballroom dancing.
Breakfast:  Green Raspberry Smoothie
3 bananas, peeled (subbed 1 kiwi, 1 apple, 1 banana)
2 cups raspberries (used frozen)
2 cups fresh baby spinach, chopped
1 head romaine lettuce, chopped (subbed 1/2 – 3/4)
1 tablespoon of dulse flakes
4 to 6 ounces filtered water
1 tablespoon bee pollen
Directions:  Blend the water, bananas, and raspberries. Add the remaining ingredients and blend for 30 seconds or until smooth.
Synopsis of Breakfast: The smoothie makes 38 fl. oz. and was quite thick due to the frozen raspberries.  It's also crunch due to the seeds from the raspberries & kiwi.  Overall the taste is good, but the raspberries do overwhelm the taste.
Lunch Menu: Green Smoothie Classic Salad + Fruit Cup (Panera Bread)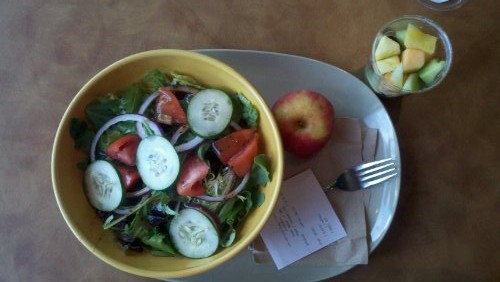 Since I had no time today to make my lunch, Panera Bread will just have to do (and I still stayed raw – yea!)  The salad was made of cucumbers, red onion, romaine lettuce, tomatoes, apple on the side, and balsamic vinaigrette.  I also got a fruit cup but I won't get it again.  Whatever nutrition value it had went out the window (old & mushy).
For those interested, here's what I was supposed to make a Green Smoothie:
2 bananas, peeled
2 cups pineapple, peeled
3 cups kale, chopped
1 Brazil nut
4 to 6 ounces filtered water
Directions:  Blend the water, bananas, and pineapple. Add the remaining ingredients and blend for 30 seconds or until smooth.
Synopsis of Lunch:  Your standard salad, but the balsamic was good.  I'm just glad it kept me in a raw diet today.
"Snack":  Kale Salad w/ Tomatoes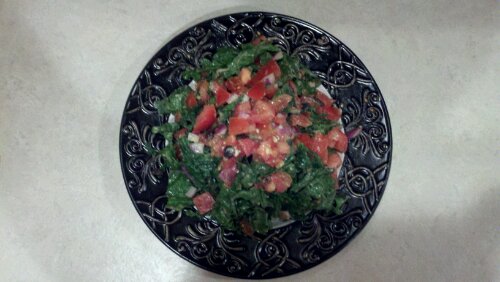 3 cups kale, chopped
1/2 avocado, chopped
3 medium tomatoes, chopped
4 slices red onion, chopped
¼ cup dried currants (subbed raisins)
Directions:  Massage the avocado into the kale; add the currants, onion and tomato. Mix well.
Synopsis of Meal: Let's face it, kale is tough to eat raw.  The tomatoes and avocado make a sort of dressing in it which is nice.  In the future, I would substitute kale for swiss chard and/or spinach.
Dinner Menu:  Fruit Salad
2 bananas, peeled (subbed 1)
2 cups whole strawberries
1 cup blueberries
1 orange, peeled and deseeded (subbed OJ – didn't have an Orange)
Directions:  Slice the banana and strawberries into a bowl. Add the blueberries.  Squeeze orange juice over salad, and add remaining orange pulp.
Synopsis of Dinner: I had no issue finishing off this meal.  Tasted well and a good meal to eat while watching some TV.  The OJ gives a nice kick to everything.  Next time subbing papaya or mango to replace the banana.
Evening inflammation check:  Right hip has subtle inflammation but it's going well.  My next issue is getting a shooting pain while squatting or bending down.
Gas / Bloating Check:  In check, but would get some surprise bathroom breaks.  Some of that issue might have happened due to having the fiber supplement after the snack (which I had around 5:30pm).