After another great Whole Foods evening meal served with raw key lime pie dessert, I did some calculations on how much sugar is in the raw key lime pie vs. the conventional sodas we commonly drink today.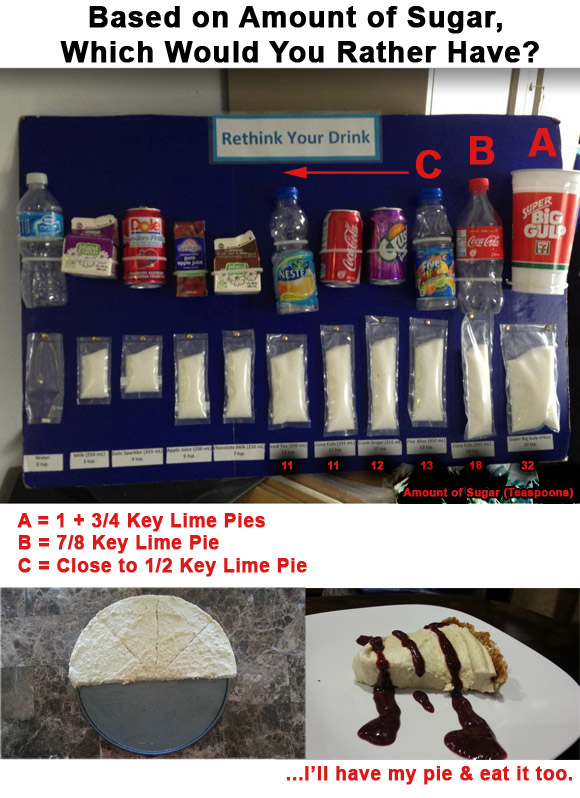 Compared to the Big Gulp which has 10.66 tablespoons of sugar and no nutritional value, all the ingredients of an entire raw key lime pie is 6 tablespoons of sugar (most of which comes from dates).  Skip the soda & be guilt-free when having your pie.  Plate-licking optional…
Raw Key Lime Pie
Crust
1 cup macadamia nuts
1 cup almonds
6-8 dates pitted & chopped
Filling
2 cups cashews, soaked for 3 hours
3/4 cup lime juice
1/4 cup coconut nectar (or 6-8 dates)
1/4 cup coconut manna
2 teaspoons vanilla extract
zest of 2 limes
Directions
CRUST:  Combine crust ingredients in the food processor and pulse until crumbly.  Press into base of 8″ springform pan or make individual pies within a muffin pan (make sure to include the muffin paper cups).
FILLING:  Combine all filling ingredients using a high power blender and blend until smooth, using water to thin the mixture so it will blend (NOTE:  if you have issues with this, blend in food processor first and add to high power blender to make it smoother).  Spoon filling on the crust and refrigerate at least 3 hours until firm.  If the mixture is not firm enough, cut pie slices after refrigeration and then add to the freezer.  OPTIONAL:  Serve with berry sauce (high-power blend frozen berries).