The 21 day food reboot was challenging (especially week 3), but also a start of something beautiful.  I've had some great days and some ones I would like to never see again.  But this is only the beginning.  Some say it takes them 6 months to see sustainable, real results while others say it can take years.  Whatever my path is, I need to create a sustainable lifestyle with my new health plan.  From this point forward, here are my plans to reach 100% health for the next 6 months (details are listed at my daily routine + chiropractor):
Morning
Take supplements to boost levels I'm lacking
Half the Smoothie I was drinking during the 21 day food reboot along with natural add-ons (ginger root, bee pollen, etc.)
Introduce one questionable healthy food per week (oats, eggs, fruit, etc.) and test how my body interacts with it
Chiropractic exercises
As chiropractic exercises reduce, introduce exercises like Yoga & strength-building
Drink lots of water
Lunch and Afternoon
Continue to eat a majority of raw food (collard green wraps, salad, soup no hotter than 118 degrees, etc.)
If I don't introduce questionable healthy food in the morning, I will do so in the afternoon.
If I have time (and remember), have a snack (apple, peppers with hummus if my NSD allows, nuts, etc.)
Supplement
Drink lots of water
Dinner & Evening
Although the goal is to push for raw, my dinners will consist of 51%+ raw, the rest cooked.  If I have meat, this is when I will eat it.
If I'm feeling deprived of specific food, indulge and recognize what it is and what it is doing to my body.  This will help the weening process off these types of indulgent foods.
Drink lots of water
Snack to keep my caloric intake up
Chiropractic exercises
Accountability & Administration
How Did I Do on Day 22?
Uniqueness of Day:  I fasted for breakfast & started making meals I wanted to go back to & feel the difference.  I definitely feel better today than yesterday due to a decrease in all that food over the week.  I only had one major BM, and I feel more "normal" now (no bloating / fullness feeling all day long).  Inflammation issues are definitely better & the problem area is still in the right leg (2 out of 10 in pain scale).  I also did not do exercises or the chiropractor due to my neck flaring up a bit in the morning.  A couple heat pad sessions and it's back to normal.
Breakfast:  I fasted due to the overwhelming food I had this past week.  As you can imagine, this was pretty easy to do.
Lunch:  Salmon Salad with Papaya & Blueberry
Mix of Wild Alaskan Salmon, 1 tomato chopped, 1 celery chopped, 1 carrot, whole grain mustard, mayo, 1/2 of an avocado & rosemary.
"Salad" was finely chopped collard greens, chopped green peppers, some lime juice and pepper
In the bowl was papaya, blueberries and 2 cut up dried figs
Synopsis of Meal:  This is one of my main staples of food.  It's quite tasty and good for you.  If you want to decease the meat in the filling, only use 1/2 and double the vegetables.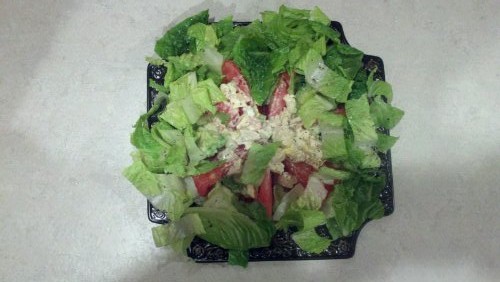 1 cut tomato base (8 slices of tomato)
Chicken Salad filling:  cut up chicken, eggs, celery, carrots, mayo, and Greek yogurt.  I used a 1/4 of the filling than I did for lunch.
"Salad" was chopped romaine lettuce, 1/2 lime (juice), pepper & Himalayan salt.
Had a small piece of 85% organic chocolate afterwards
Synopsis of Meal:  Also quite good.  The filling could be used for 3-4 days making a healthy dish & easy to prepare.  The chocolate afterwards didn't reside right (didn't feel right for about 10-15 minutes).