Uniqueness of Week
I'm finding that meat in my meals taste better whenever I use it as a topping or a smaller portion of the meal.  For example, I only ate half of the meat in the Ahi Tuna Dinner.  I found that the grilled sweet peppers tasted better.
On Saturday I went to the local farmer's market in downtown and there were two produce sellers – neither one was USDA organic.  There is a guy who sells sprouts that are organic.
Also on Saturday I found the only USDA organic food market that's between Sarasota and Naples – Choice's Natural Market.  They are located at 737 Tamiami Tr. S., Venice, FL 34285.
Lowest weight of the week was 142lbs. and a BMI of 19.88 (2/14/12).
My Health in Week 4
Stiffness continues to dominate my life right now.  It prevents me from having a good sleep and makes me almost dread going to bed.  However, started the chiropractic & exercise routine on Thursday.
Started light Yoga on Sunday seems to have helped right from the start.  Since the Denny roll gives me some issues, I'm alternating my routine between Yoga & Chiropractic work in the mornings.  The hardest Yoga routines are the Sun Salutation (hard to bend over & touch my feet + flares up my right sacroilliatic joint / hip area) and the plank (not the routine as much as getting into the pose).
Lentils – I had my parents soup & realized there were lentils in them…bad idea as they contain a lot of starch.  When in doubt, just don't eat any type of bean or lentil while on a No Starch Diet (NSD).
Notable Meals this Week

Taco Salad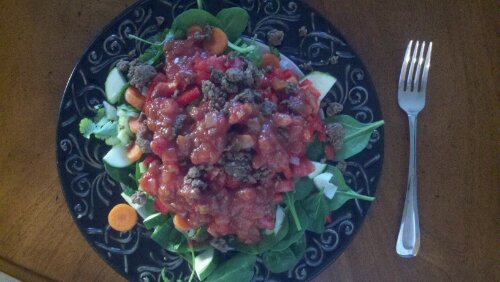 Base is made of spinach.  Add lime juice, pepper & Himalayan salt
Then add in cut up zucchini, cilantro, carrots, white or red onion & red pepper.
Add in some ground beef (not too much, about a 1/4 cup) – this is totally optional as I didn't see this add too much to the taste.
Top it all with mild salsa.  Watch out for any processed salsas that contain starches.
Synopsis of Meal:  The salsa made the meal.  I probably wouldn't add in any meat as it's fine without it.
Shrimp Fajitas at Chilis
1/2 raw, 1/2 cooked alternative when going out. Make sure you ask the waitress if they carry anything raw besides the standard ingredient.  I asked and got carrots.
The taste, as expected was delicious and I would get it again.
The shrimp version is not part of the 2 for $20, but the chicken version is.  It's a $1 more for steak.
Chicken Bruschetta Salad (Applebees)
Synopsis of Meal:  Chicken was dry, but the balsamic was good.  Make sure they sub out the bruschetta fried cheese – that'll really amp up the inflammation.