Until recently, I had no idea broccoli looked liked this in it's natural form.  For those who don't know, this is broccoli picked the same day from the farm.  I picked this one up today at Food & Thought in Naples.
Waking Up:  Went to bed at 11:30pm & got up at 6:20am with the right leg / buttock area of inflammation with shooting pains – it seems to have gotten worse.  Although the Metamucil has helped with the gas/bloating, I found out that it contains nasty ingredients like natural & artificial flavors, yellow 6 & aspartame (yikes!).  Switched to another fiber supplement today – Organic India's Fiber Harmony Orange Flavor.  It contains psyllium, aloe vera, inulin, and organic orange flavor.  There are no sugars, artificial sweeteners (I think those flare me up but can't prove it yet), colors or flavors.
Chiropractor: Head alignment machine, Pettibon / Wobble Chair, neck & lower back / spine adjusted, neck alignment for 12 minutes, Head weights 2X per day (10 min. morning & evening) + Denny roll 1X in evening (20 min.)
Morning Physical Symptom Check:  My normal stiff lower & less mid-back (less than moderate stiffness), turning my head all the way to the left I feel a tiny bit sore.  I did get shooting pains from my right hip as I got out of bed.  But it subsided as I walked about a minuted. I took my Enbrel shot this morning (normally take 2X per week) & can feel congestion in my nose after I took it (quite mild, but noticeable).
Smoothie Recipe (Banana Smoothie Recipe)
•1 banana, peeled
•1 cup papaya, cubed (substituted Apple)
•1 mango, peeled and pitted
•1 tablespoon cacao powder
•3 cups Swiss chard, chopped (subbed 2 Cups Kale, 1 Cup spinach)
•1-2 small vine tomatoes
• Strawberries (handful)
•1 small to medium-sized carrot
•3 to 4 ounces of filtered water
• Bee Pollen (1 Tablespoon)
Synopsis of Smoothie:  While it tasted good, it makes 3 glassfuls!  Try removing the mango, apple, & strawberries.  Keep the veggies as-is.
Good Belly Crisis:  I'm currently out of the Good Belly Big Shot because the local distributor is out.  I went to 4 natural food stores and none of them had it.  I ended up finding the fruit-based Good Belly that contains 20 Billion Probiotics per serving.  I'll use that as a backup as I'm now on the hunt for the Big Shot.
Lunch Menu:  Collard Green Lettuce Wraps & Fruit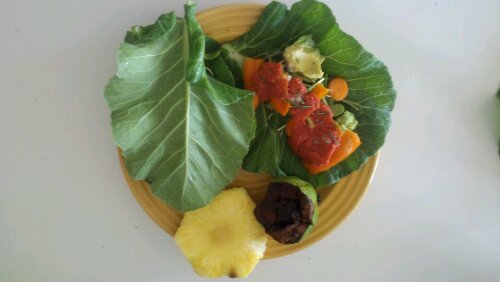 Tomato Sauce Leftovers of Cheezy Cannellonis (Refer Back to Day 5)
Collard Green Wraps (4) – Makes a "Sandwich" Effect
Garlic, Rosemary, Lime & Pepper
Sweet Pepper (2)

Sunflower Sprouts

Carrot (1)
Pineapple Slice
Black Sapote (dark brown fruit)
Dried Fruit (Few Pieces)
Walnuts (Handful)
Almonds (Handful)
Dinner Menu: Berries & Spinach Salad (Fresh Market)
Spinach (90% of the meal)
Blackberries, raspberries, and blueberries
Feta cheese (takes up 1% of the total meal + adds a savory flavor)
Walnuts
No dressing was added, but balsamic or lime w/ salt/pepper might be good
Gas & Bloating Issue 3rd Day Test:  I've had a few bloating issues today & the evening.
Evening inflammation check:  Right thigh & right buttocks area with shooting pains when I twist. Yesterday was around a 4 or 5 out of 10 pain scale.  It's now up to 6-7 (especially when I'm on the Denny roll and get out of bed). Mild stiffness in lower back.
Digestion:  Some bloating & gas, but manageable.
Neck Issue Check (Evening):  Done.  Yes!